These are my notes from the "Building a Blended Learning Toolkit" session at the 2016 FETC conference.
Presenter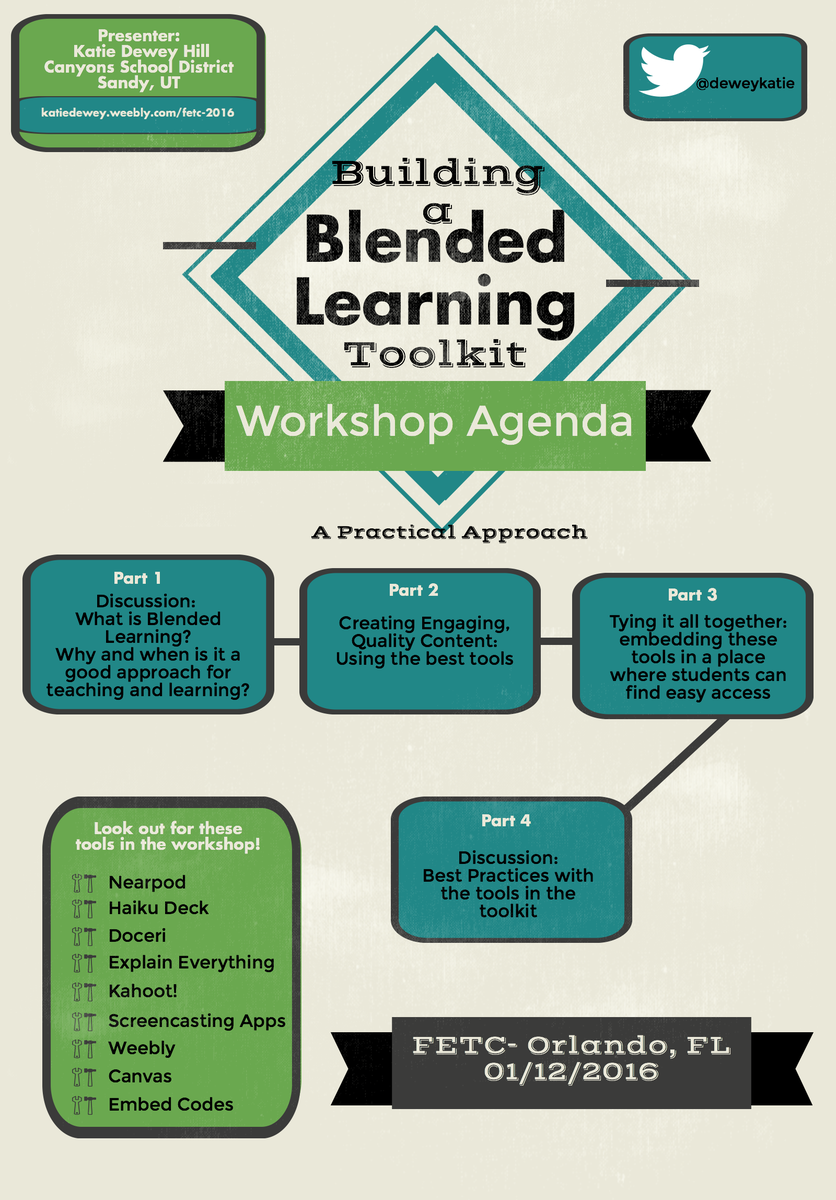 Blended Learning
Students can review what happened in class.
Give every access. Teachers need to learn how to get the technology work for us.
Can incorporate all of the stakeholders, including parents and administrators, so they know what is happening in your class.
Enables differentiation. "Finally!"
Tools
Nearpod
http://nearpod.com or download the app
Looks like a slideshow of static images.
Can post a question for the students to respond to. Presenter is able to select specific responses from a list to post on the screen.
A slide with images of computers, tablets, cell phones etc., directions say to circle the devices you use most with students.
Create reports of how students responded to questions. (Also, she was able to embed a pdf in the presentation.) Display a pie chart of the results to students.
SAMR Model

Substitution
Augmentation (technology is added in, but not essential to the task)
Modification
Redefinition (task could not be done without technology)

Can send links to students that automatically open on their device. Or just make links that students can click on.
Embed movies
Import a PowerPoint
Launch a homework session

Asynchronous – students move at own pace.
A participant suggested looking at Office Mix
Haiku Deck
Create simple slideshows. One theme per presentation and a short list of slide layouts.
Search for a Creative Content image within app to embed.
$5 a month for educators.
Doceri
Whiteboard app, turn your iPad into a smartboard.
Explain Everything
Whiteboard app, but geared toward making a screencast.
Import content from Google Drive
Great way to have students explain their thinking.
Reflector
App that can replace using an Apple TV for Airplay. Mirror any device onto a Mac or PC.
Google Classroom
Learning management system
Tool within Google Apps for Education
Embedding
How to make all of the tools work together.
Weebly
Drag and drop elements to create a web site.
Easily embed images from Getty Images.
Look for the embed symbol </> to insert embeds from other sites, such as embedding a Nearpod.
Canvas
Type of learning management system, similar to Schoology or Moodle.
other
Look for Screencast-o-matic